Hama, SANA- Terrorist groups perpetrate acts of terrorism against safe locals in the villages of Hama countryside generally and Karnaz town adjacent to the areas where Jabhat al-Nusra's terrorists are positioned in particular, in which they targeted with rockets agriculture lands , wheat and barley fields, and locals' houses, resulting in the burning and destruction of thousands of dunums of these fields in the past few days.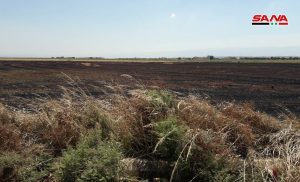 The terrorist groups have been launching recurrent rocket attacks on tractors and combine harvesters in an attempt to prevent the Karnaz's farmers using their agriculture vehicles to harvest the remaining crops, in addition to the daily and violent shelling the houses and utility facilities, including schools, electricity and phone networks , and bakeries.
SANA 's reporter toured Karnaz town and met its locals , who confirmed their determination to practice their normal life challenging all the terrorist crimes aiming at making them leave their houses , properties , and desert their farmlands.
Shaker Wasin said that terrorist groups deliberately target Karnaz with various rocket and artillery shells in a daily scale , after they have failed to breach the protection lines of the town. As a result, large areas of wheat and barley fields were burnt, tens of the locals were injured, and damage caused to the houses, water and electricity networks, as students were hindered from going to exams.
He affirmed his confidence to eradicate terrorism from the neighboring villages thanks to the heroes of the Syrian Arab Army as the life will continue and the town will be restored despite all the damages caused to it.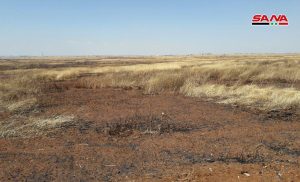 Head of the agricultural association in the town Abdul Hakim al-Muhaimeed said that the areas which have been damaged and destroyed by the shells fired by the terrorists have been counted with more than 10,000 dunums.
"The terrorists have burnt the whole wheat crops of mine… 30 dunums of land were completely burnt and they also set fire to most of the lands of the locals in the town , which are livelihood for us," he added.
Head of Karnaz Council Ibrahim al-Moustafa said that after restoring safety and security to the town the work is under way, in coordination with the bodies concerned in Hama Governorate to provide all the necessary services to the locals and to speed up the repair wheel of all the damaged power and phone networks.
Shaza/Rasha Milhem